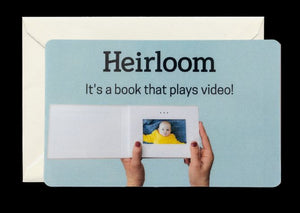 Give the gift of a video book! You, or your recipient, will receive a physical gift card in the mail which can be redeemed for a ten-minute video book at their convenience. The card contains a code which will allow them to upload their videos, and receive their custom video book already loaded with their family movies. This gift card is good for any ten-minute book, with any of our over a dozen covers.
Don't need a physical gift card? You can also purchase a video book online, and forward the link to our builder right to your recipient for an instant gift!
This gift card will allow your recipient to build a 20-minute video book, while our standard gift card only allows a 10-minute video book to be created.